Nieuwe rewards!
16 | 06 | 2017
English version below
De tweede ronde van ons crowdfunding project loopt, en we hebben nieuwe rewards!
Zo kunt u nu kiezen voor een workshop in het maken van een molensteenkraag, met Mariella Devos, coördinator van de opleiding Toegepaste Kunst en docent Kostuumvormgeving aan de Koninklijke Academie voor Schone Kunsten. Tijdens deze workshop gaat u zelf aan de slag met textiel, en ontwerpt en maakt u uw eigen molensteenkraag.
Ook kunt u, mocht u de lessen met Frieda tijdens de benefietavond gemist hebben, deelnemen aan een lezing over en met de studiecollectie. De lezing wordt gegeven door Frieda Sorber, de conservator van de historische collectie van het MoMu.
Kies een leuke reward, en schenk aan ons project. Heeft u al geschonken? U kunt ons nog steeds helpen! Deel het verhaal van Frieda en de collectie met uw omgeving en uw netwerk! Verspreid het project door het te vertellen of te delen via social media of mail.
Link projectpagina: https://nl.goteo.org/project/capturing-fashion-in-the-20th-century-with-frieda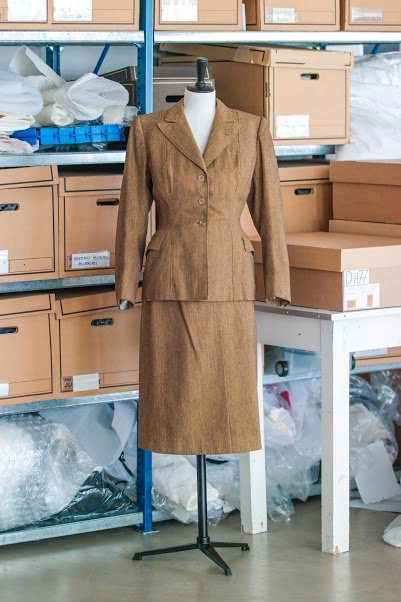 Beeld: MoMu Antwerp | Monica Ho
We are in the midst of our second round of the crowdfunding campaign, and we are offering new rewards!
For example, we offer an exclusive workshop where you can learn to make and design your own millstone collar. The workshop will be taught by Mariella Devos, the coordinator of the Design Faculty and Costume Design teacher at the Royal Academy of Arts Antwerp.
And if you missed the class on the study collection during our fundraising event, you can still participate in another class about and with the collection. Frieda Sorber, conserver of the historical collection at MoMu, will give a lecture in the MoMu library.
So, pick a reward, and support our project. If you've already contributed you can still help us! Share the story of Frieda and the study collection with your friends and family. Spread the word by sharing our project on social media or via email.
Link to the project page: https://en.goteo.org/project/capturing-fashion-in-the-20th-century-with-frieda
Image: MoMu Antwerp | Monica Ho
Comments
Inicia sesión para dejar un comentario